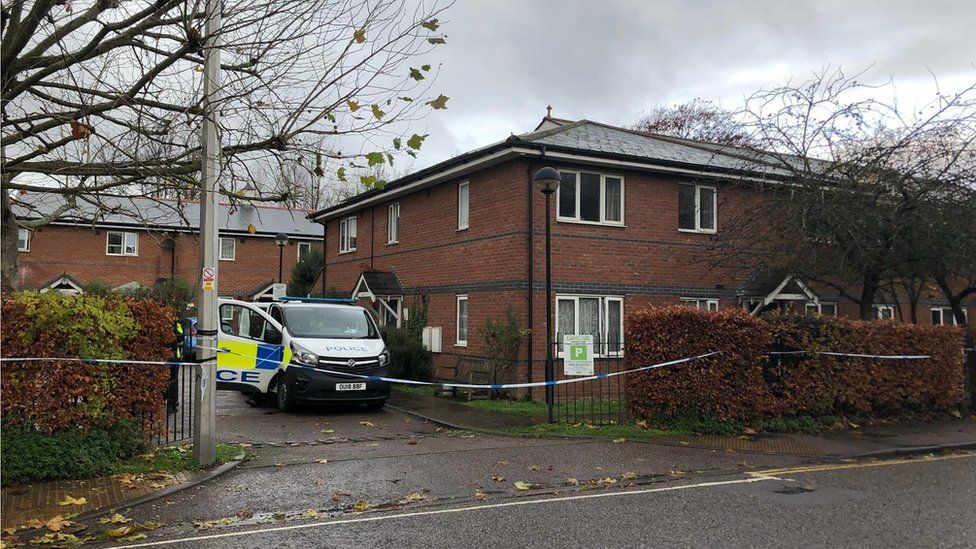 A woman was not told her neighbour had threatened to kill her just hours before he murdered her, a review has found.
Zac Jackson strangled Katy Sprague, 52, at a supported living complex they both lived at in Cambridge in November 2019.
A review found failures were made in Jackson's care and Ms Sprague was not "adequately safeguarded".
Cambridgeshire County Council said it would work with partners to ensure the findings were "fully implemented".
A spokesperson said the authority had taken a "thorough review of how we commission and contract in this area of adult social care" since the murder.
Jackson strangled Ms Sprague, his neighbour at Denham Place, in the common room of the flats on Coleridge Road - where support for people with mental health difficulties is run by Sanctuary Supported Living - on 27 November 2019.
He was convicted of murder last year and jailed for a minimum of 15 years.
The court heard that on the morning of the murder, Jackson attempted to strangle a community psychiatric nurse, later saying he was "going to kill her, kill the manager and kill Katy".
A safeguarding adults review, published on Wednesday, found there had been tensions between Ms Sprague and Jackson in the past and "this was not referred to when the threats, just prior to her death were made".
Ms Sprague "was not made aware of the threat that was made about her some hours before her death and there was not enough consideration regarding her safety", the review found.
The review also found similarities "in many ways" with a previous incident in November 2018, when Jackson made a gesture as if to strangle a support worker and made threats to kill others, including Ms Sprague.
It said there had been "continual evidence of self-neglect" by Jackson but found "a lack of evidence that there was any coordinated activity to address this with consideration to [his] mental capacity and mental health".
The report continued: "It has to be concluded that there were indications that [Jackson's] mental health and physical health were declining and there were indications that he posed a risk.
"He had on at least one occasion made specific threats regarding [Ms Sprague]. The care and risk plans did not adequately reflect or mitigate this."
It questioned whether Jackson, who according to the report had paranoid schizophrenia, would have been better in accommodation with a "more detailed care and support plan".
An inquiry by Cambridgeshire and Peterborough NHS Foundation Trust (CPFT) previously found Ms Sprague was "not effectively safeguarded".
A Cambridgeshire County Council review found the authority had "failed to meet all [Jackson's] needs to which the Care Act applied" and therefore had failed its statutory duty.
The new review agreed with an earlier internal inquiry which concluded: "Based on the balance of probability, organisational abuse/neglect did not contribute to [Ms Sprague's] death but there is evidence to suggest she was not adequately safeguarded from risk of harm."
A separate independent review for the NHS, also published on Wednesday, looked at Jackson's care and found there was inadequate risk assessment and management.
It found that prior to the November 2018 incident Jackson's risk assessment had not been updated for over a year, and then not updated again for another 12 months "despite there being several occasions which should, under trust policy, have prompted a review".
The trial heard that on the day of the murder the community psychiatric nurse contacted a crisis team after the threat, but nobody was available to assess Jackson until the following day.
The review found the nurse, referred to in the report as a care coordinator, said she did not inform other staff of Jackson's threat, "because she was in shock and briefly forgot about it".
But it added she did not perceive Jackson to be a threat to her, the support worker or Ms Sprague, adding: "Rather Jackson's concerns were about himself, and his actions were seen as largely a way of getting attention."
Family input
The Cambridgeshire and Peterborough Safeguarding Adult Partnership, which published the new report, said it was "grateful" for the input from Ms Sprague's family, which "helped to ensure Ms Sprague's voice was heard through the report".
It said the partnership remained "deeply committed to ensuring that agencies make the further changes that are needed to take forward the learning that has arisen from this safeguarding adult review and [Ms Sprague's] tragic death".
A spokesperson for Sanctuary Supported Living said: "We are deeply saddened by [Ms Sprague's] tragic death and she remains in our thoughts.
"We are currently considering the review report, including its detailed recommendations."
A Cambridgeshire County Council spokesperson said the authority was "keen to ensure that our services fully meet the needs of those vulnerable people we care for, as well as the legal responsibilities and duties we have under the Care Act".
They added: "We accept all the recommendations of the report and have taken the time to review how we work with Cambridgeshire and Peterborough NHS Foundation Trust and Sanctuary, the commissioned provider.
"This will be subject to continuing and ongoing monitoring, to ensure the lessons really are learnt."
A CPFT spokesman said the trust, which has since recruited and trained safeguarding experts, "fully" accepted the review recommendations.
"Since this incident occurred, we have made significant improvements to our safeguarding processes, and we have a plan in place to ensure the further changes needed are embedded into our services," he added.
Credited: By Phil Shepka, BBC News, 19th January 2022, https://www.bbc.co.uk/news/uk-england-cambridgeshire-59908433